School playground, Denmark
Information
The €80,000 play area, designed in collaboration with a landscape designer, features a bespoke UniPlay unit with a custom colour scheme and a NRG trim trail. Schoolchildren are spoilt for choice and have access to a variety of play activities, including slides, climbing frames and a number of challenging units to test their balance and coordination. Each play structure offers optimal user capacity, ensuring that every child is active during breaktime or after school.
The playground has become a vribrant space which gives children the opportunity to socialise, burn off some energy and express their creativity by engaging in role play.
HAGS sales manager Michael Pehrson says the customer also loves the contemporary colours of the equipment, with black and green hues adding an element of interest and highlighting the quality of the equipment.
Location
Vanlose, Denmark
Year Completed
2015
Project Value
€80.000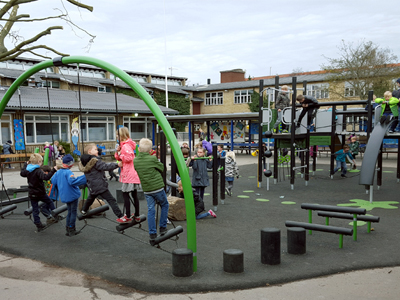 Contact Us
POLAND OFFICE
Adress: Building E, Wisniowy Business Park, UI Ilzecka 26, 02-135, Warsaw, Poland.
Tell: +48 221 530 191
Email: [email protected]
VIETNAM OFFICE
Address: No 38 Ven Ho Ha Dinh street, Ha Dinh ward, Thanh Xuan district, Hanoi, Vietnam
Tel: +84 24 66 73 3777 – +84 24 66 73 9777
Email: [email protected]
Opening hours for HAGS switch board
Mon - Fri 8:00AM - 5:30PM