Pine Timber features and benefits
Extremely strong and durable
Our pine wood is sourced from Scandinavian forests, where the trees grow slowly and develop a very dense and compact quality. We carefully select the best trees that are free from defects. Nordic timber contains a high proportion of heartwood and naturally comes with a lot of resin, which is a natural impregnation agent. Even untreated, it is thus extremely strong and less prone to bug or fungus infestation. Our pine will also withstand harsh weather conditions such as long, cold Nordic winters or damp environments.
Timber parts are first treated with oil, which increases the material's durability and enhances its natural appearance. A woodstain primer and finisher are then applied to add an additional protective layer and a smooth finish, as well as a pleasing subtle colour. It also means that the surface resists water penetration.
All our wooden posts have galvanised steel ground sockets to avoid direct contact with soil, thus reducing the risk of mould contamination or rot. This feature also eliminates the risk of strimmer damage. Vertical posts come with a plastic cap on top for additional protection.
Loadbearing posts are made from laminated wood and engineered to cope with heavy wear and repeated impact. Stress relief grooves help stabilise the wood and reduce its tendency to split/crack.
Our team of engineers also work hard to come up with well though out design solutions to prevent water stagnation, which accelerates the wood decay process.
We are so confident that our equipment meets high quality standards that we offer a guarantee of 10 years on engineered timber against failure due to rot.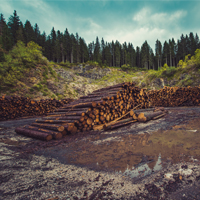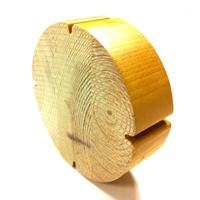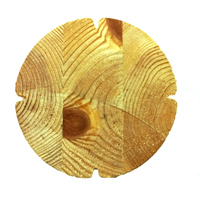 Download our pine timber fact sheet
Our laminated timber poles are composed of three sections joined together, a method that increases strength and reduces cracking.
Machined grooves allow the wood to expand and contract without cracks forming.
Environmentally friendly
Timber is a renewable raw material, making it one of the most sustainable materials.
All our timber is FSC-certified and comes from responsibly managed forests.
Our wood-cutting process is entirely computerised and reduces the amount of waste.
We only use water-based biodegradable solvents which don't a negative impact on the environment.
Easy to maintain and recycle
Timber is a natural material, so it tends to shrink in dry conditions and expand when it's damp. Some minor cracks and splits may appear over time but it won't affect the equipment's structural integrity, so it's not something to be worried about.
Our timber equipment can last more than 20 years in normal conditions. We recommend our customers to regularly inspect for debris such as sand or leaves, clean the equipment with a mild detergent to remove any dust or residue from air pollution, and refresh the equipment with an extra coat of paint every 3-5 years to keep it in the best condition.
As all our coatings are biodegradable, wooden components can be burned or recycled and no specific disposal process is required.
Pine timber is used for:
Decks
Park & Urban Furniture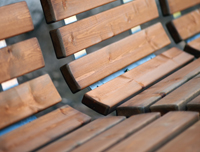 Panels


Post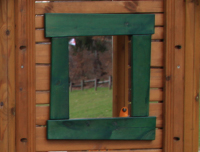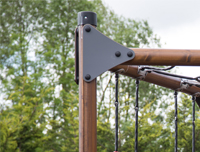 Contact Us
POLAND OFFICE
Adress: Building E, Wisniowy Business Park, UI Ilzecka 26, 02-135, Warsaw, Poland.
Tell: +48 221 530 191
Email: [email protected]
VIETNAM OFFICE
Address: No 38 Ven Ho Ha Dinh street, Ha Dinh ward, Thanh Xuan district, Hanoi, Vietnam
Tel: +84 24 66 73 3777 – +84 24 66 73 9777
Email: [email protected]
Opening hours for HAGS switch board
Mon - Fri 8:00AM - 5:30PM