HPL features and benefits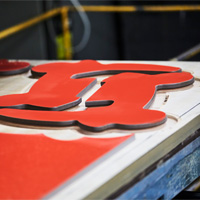 HPL stands for High Pressure Laminates and it is a very strong, low-maintenance material frequently used in the construction and design industries for decking, cladding and furniture. HPL boasts outstanding resilience and a visually appealing appearance. As it can cope with strong coastal winds and high humidity levels, it is suitable for all environments, including coastal locations.
Material specifications
HPL is composed of several layers of kraft paper impregnated with thermosetting resin. After a decorative paper layer has been added on each side, the layers are fused together with heat and pressure. The result of this process is a compact, very hard laminated sheet.
Benefits of HPL outdoor equipment
Due to its compact and dense quality, HPL is durable and extremely resilient. It has high resistance to scratching, heat, damp, stains, repeated impact and heavy wear.
It's very easy to clean and you only need a sponge and a mild detergent to remove most stains or residues.
HPL is available in a variety of colours and textures. Bespoke graphics can be engraved to add visual interest and inject some bright colours into a playground.
Used for:
UniMini and UniPlay panels
Seesaws and springers side panels
Slides side panels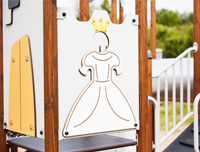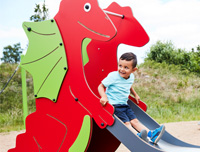 Contact Us
POLAND OFFICE
Adress: Building E, Wisniowy Business Park, UI Ilzecka 26, 02-135, Warsaw, Poland.
Tell: +48 221 530 191
Email: [email protected]
VIETNAM OFFICE
Address: No 38 Ven Ho Ha Dinh street, Ha Dinh ward, Thanh Xuan district, Hanoi, Vietnam
Tel: +84 24 66 73 3777 – +84 24 66 73 9777
Email: [email protected]
Opening hours for HAGS switch board
Mon - Fri 8:00AM - 5:30PM